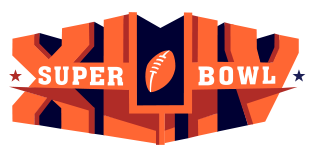 Super Bowl XLIV will be the 44th annual edition of the Super Bowl in American Professional Football, and the 40th annual championship game of the modern-era National Football League (NFL). The game will be played at Dolphin Stadium in Miami Gardens, Florida. This marks the tenth time a Super Bowl will have played in the South Florida area: five times the game has been held at Dolphin Stadium; the other five were played at the Orange Bowl. The game will be played on February 7, 2010.
The Logo for the event is shown alongside and the following are some of the key elements in the logo.
1. Clearly the heart of the logo is the XLIV written in block letters.
2. The bold orange color, which really hurts the eye, reflects the Florida Orange
3. The L and I have been somewhat cleverly used to represent the goal post.
4. The two stars on the edges reflect the stars for the two NFL conferences (AFC and NFC). The red star represents the AFC and the blue star represents the NFC.
5. The football is the same as the football in the NFL logo.