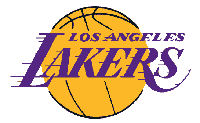 The Los Angeles Lakers are one of the NBA's elite teams and one of the most successful sports franchises. They have always had superstar players on their teams like Jerry West, Magic Johnson, Kareem Abdul-Jabbar, Wilt Chamberlain, Shaquille O'Neal and Kobe Bryant.
The Lakers franchise was founded in Detorit and known as the Detroit Gems, before moving to Minneapolis, Minnesota (called the land of 10,00 lakes) and hence derived the name the Lakers. The team moved to Los Angeles in 1960 and have been there ever since.
The Lakers Log consists of the team name, "Los Angeles Lakers" written in "Purple" on top of a "Gold" basketball. The text also has streaks to indicate motion. Purple and Gold are the team colors. Purple uniforms are used for road games and gold uniforms are used for home games. The team also wears white jerseys for Sunday and holiday home games.
| | |
| --- | --- |
| 1961-1991 | The Lakers used a slightly different version of the logo for the first 30 years. You will notice that ball is tilted to the right in the original logo whereas the ball is tilted to the left in the new logo. The right tilt of the ball comes from the original design of the Minneapolis Lakers logo shown below. |
| 1957-1960 | The current logo of the LA Lakers has its origins in the The Minneapolis Lakers shown alongside. The background consists of the gold ball with the map of Minnesota on it and a star representing Minneapolis on the map. The script MPLS Lakers surrounds the ball. |
The logo depicted on this page is a registered trademark. Use of the logo here does not imply endorsement of the organization by this site.