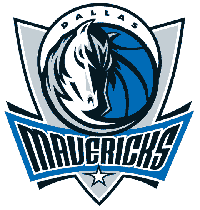 The Dallas Mavericks are one of the hottest teams in the NBA. They lost to the Miami Heat in the 2005-2006 playoffs. They are owned by the often controversial Internet billionaire, Mark Cuban. The team has a lot of star power with top players like Dirk Nowitski and Josh Howard.
The Dallas Mavericks were admitted into the NBA in 1980-1981. They paid a $12 million entry fee to join the NBA. The team's name came from the 1957-1962 TV western Maverick, as James Garner played the namesake character, and was one of the original team owners.
The Mavericks logo consists of a half-moon and a half-horse placed on a shield. The Texas star is seen at the bottom of the logo.
The logo depicted on this page is a registered trademark. Use of the logo here does not imply endorsement of the organization by this site.
Dallas Mavericks
1980